As fall quickly approaches, it is time to break out some of those pumpkin recipes. Here's one of our favorites from the bar!
The Smashing Pumpkin
2 ounces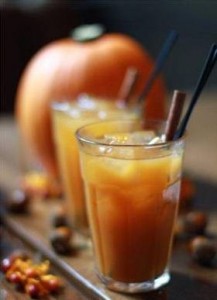 Maker's Mark Bourbon
1 ounce              Pumpkin Puree
3 pieces             Tangerine with the peel
½ ounce             Grand Marnier
½ ounce             Brown Sugar Simple Syrup
Muddle the tangerine segments in a glass with the brown sugar simple syrup.  Add the remaining ingredients, ice and shake.  Garnish with nutmeg.
To make the simple syrup – mix two parts brown sugar with one part water, bring to a boil and then let cool.
Cheers!