Fall is approaching quickly here in the Smoky Mountains.  With that in mind, here is one of our favorite Blue Waters Mountain Lodge recipes for Apple Cinnamon Scones.  These are wonderful on a crisp fall morning with a warm cup of coffee or tea.
Apple Cinnamon Scones
2 Cups   All Purpose Flour
2 TBSP   Sugar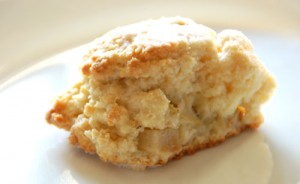 3 Tsp      Baking Powder
1 Tsp      Cinnamon
1 Cup     Apple, Chopped
½ Cup   Milk, Whole
1             Egg
1 TBSP   Sugar (For Topping)
½ Tsp    Cinnamon (For Topping)
Directions
In a large bowl, combine flour, 2 TBSP sugar, baking powder and 1 Tsp cinnamon, mix well.
With a pastry blender, cut in butter until mixture resembles coarse, stir in apples.  In a small bowl, combine milk and egg, blend well.  Add milk/egg mixture to the flour mixture and stir until dry ingredients are moistened.  On a lightly floured surface, gently knead the dough several times. With a floured rolling pin, roll dough into ½ to ¾ inch thickness in rectangular shape.  Cut into squares and then on the diagonal.  Wrap into portions and then freeze. When ready to cook, preheat oven to 400 degrees.   Cook for 22 to 25 minutes.  Browned but not hard. Serve warm or cool.
Enjoy!